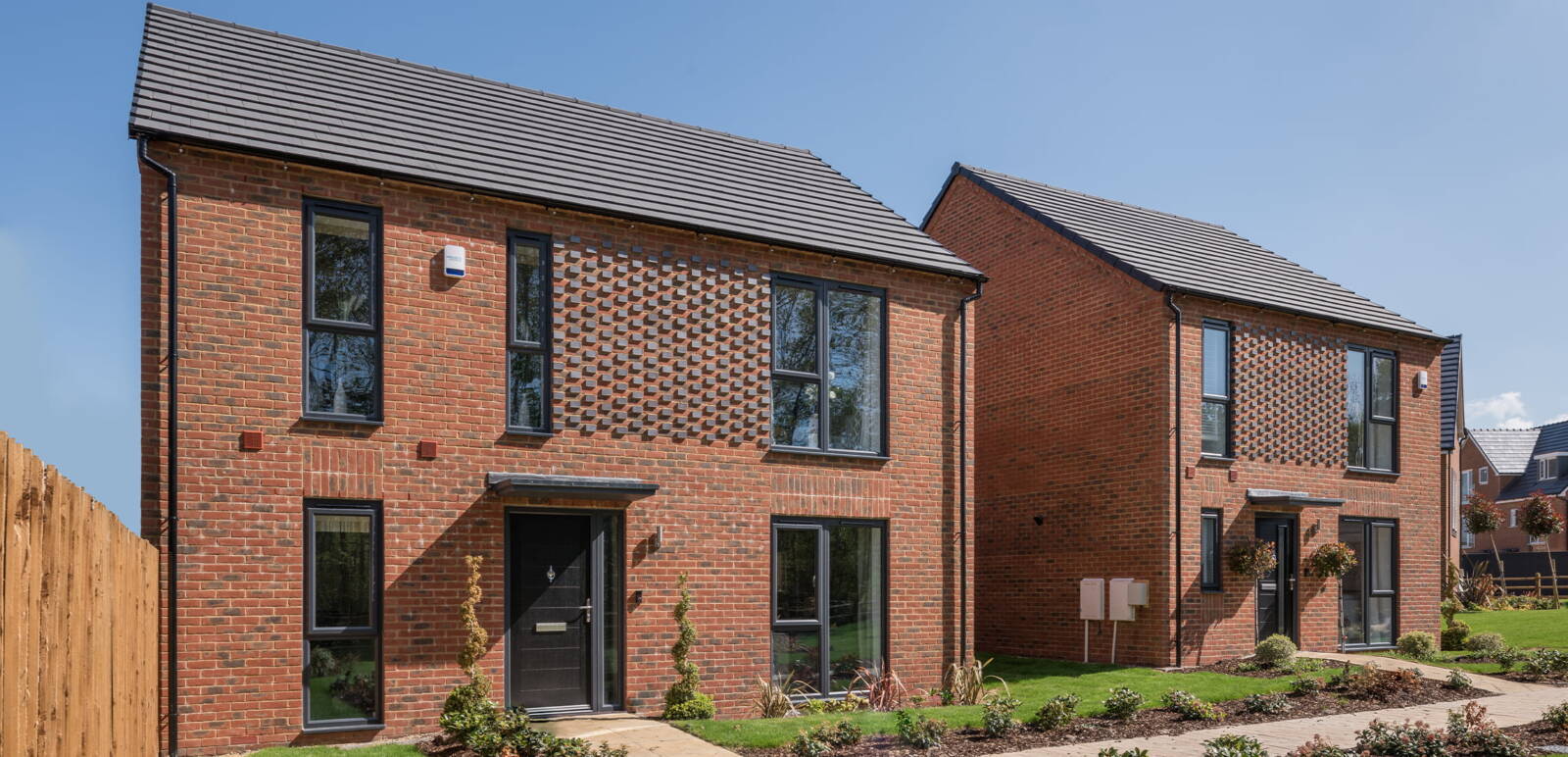 Striking brick detail with anthracite windows.
Pure
Welcome to our Pure range where beauty is found in simplicity. Here, clean lines meet refined, uncluttered finishes to create a pared-back, modern aesthetic.
Pure is a design-led concept, embodying the philosophy that a home should harmonise with your lifestyle. We've kept things to a minimum so when you move in, the space is ready to make your own.
Outside, you'll recognise Pure's signature architectural style. The contrasting brick tones bring depth and character while generous windows usher in light. Together they create a striking exterior design.
Inside, you'll feel free from constraints. Simply be guided by your own intuition throughout the free-flowing open-plan layout. Floor-to-ceiling windows are used extensively to compliment this. With natural light pouring into every corner of your home, embrace the chance to unwind within your very own sanctuary.
It's the little details that make a significant difference, which is why you'll find smaller door frames and skirting boards in Pure. These streamlined finishing touches have been thoughtfully designed to further open up each room. When paired with the matte paint finish, you're left with a bright and elegant space.
We worked alongside renowned design agency HemingwayDesign to craft Pure – a visionary concept that reflects our approach to homebuilding.
"When it comes to our own homes we have always subscribed to simplicity, with a view that less is more. We believe that it is the vibrancy of human beings combined with simple, well-designed elements that bring spaces to life."
Core
From the moment you walk into our Core range you'll be greeted by a calm, contemporary space that instantly feels like home. Here, thoughtful layouts and refined design details establish an effortlessly laid back style.
Core is St. Modwen Homes through and through. Dynamic architecture comes together with smart, sustainable design choices to create spaces that show our height and light philosophy in action.
When building homes we always think about the surrounding landscape, and use materials – such as Hardie-plank cladding or brick detailing – that ensure a natural looking exterior which is sensitive to the environment it sits within. To establish the impeccable feel of Core, white doors and window casements provide the finishing touches.
The interior is rooted in tried and trusted design specifications, such as a white gloss paint finish and Suffolk Grain internal doors. These cosy yet contemporary touches are what our customers love and it's what they expect in their homes.
A blend of floor-to-ceiling and traditional windows similarly welcome in an abundance of natural light, while both zoned and open-plan floorplans create a layout that flows effortlessly around you and your family's lifestyle.
"We have grown the business rapidly over recent years on the back of our Core Range. It's become what we're best known for and reflects our commitment to providing high quality homes with high ceilings and large windows. The use of crisply detailed slimline elements combined with well-proportioned openings produce a confident, modern appearance with the warmth that says 'home'."

Stewart Court, Design Manager for St. Modwen Homes