Elegance is beauty that never fades – Audrey Hepburn
The right home is more than just a house. It's a reflection of
you.
Home could be where you start raising your family. The place that brings friends together over dinner. Your sanctuary to self-express, to work, to wind down and to feel secure. Whether you're buying your first home or moving to a new one, it's a huge decision and not one to be taken lightly. We understand how important home is, so we want to help you get it right.
Our homes are made for real life, with our customers at the heart of all of our design decisions. That's why all of our homes have thoughtful layouts, with bags of storage space and flexible bedrooms that can adapt to your needs.
A house is much more than a mere shelter, it should lift us emotionally and spiritually – John Saladino
Height and light
It's pretty simple – living in an environment that feels spacious and full of natural light is better for your health and wellbeing. That's why we use architecture and design to create properties with an air of tranquillity – find out more benefits here.
Our homes have higher ceilings and larger windows than most other housebuilders. We're leading the way when it comes to engineering as much light as possible into our spaces too. You'll find yourself noticing how the sunlight passes through your home office over the course of the day. Appreciating how the morning sun bursts into your master bedroom, or enjoying the dusky evening light that sets a cosy atmosphere at your kitchen table for dinner.
Extra natural light isn't just great news for you – your house plants will love it too. And with less need for artificial lighting, you'll benefit from lower energy bills.
Over the last year, over 95% of our customers said that they would recommend us
Home is where love resides, memories are created, friends and family belong and laughter never ends
Open-plan living or not, you decide
One of the first – and most important – things you'll look at when you're buying a new home is the floor plan, so we've left that up to you!
With 'Choose your floorplan', we offer a selection of different living space arrangements. Allowing you to personalise your new home with your ideal layout*. Whether you'd prefer a structured floorplan that suits working from home. Or you need an open-plan space that lets you keep an eye on the kids from the kitchen. Our homes can be adapted to suit your lifestyle.
*Currently, you can 'Choose a Floorplan' with The Edwen/Edwena, The Barlow, The Garnet, The Mayne or The Almond. With all of these homes, we've developed two options. The standard layout will provide a more traditional layout with distinctive and separate spaces, while the second option is more open-plan.
Adapting our homes to suit you by making working from home, work for you
Need to work from home? We have you covered
With working from home set to become the new normal for many of us, we're making changes to the way we build our homes to make sure that they are more adaptable than ever.
We're adding extra electrical and BT outlets to rooms that you may wish to use as your home office, making it even easier to create an efficient workspace. There's also a collection of other simple adaptations and optional extras to help make sure your new home is work friendly.
Ask our Sales Consultants about our 'Working from home' extras to see how you could transform your living space.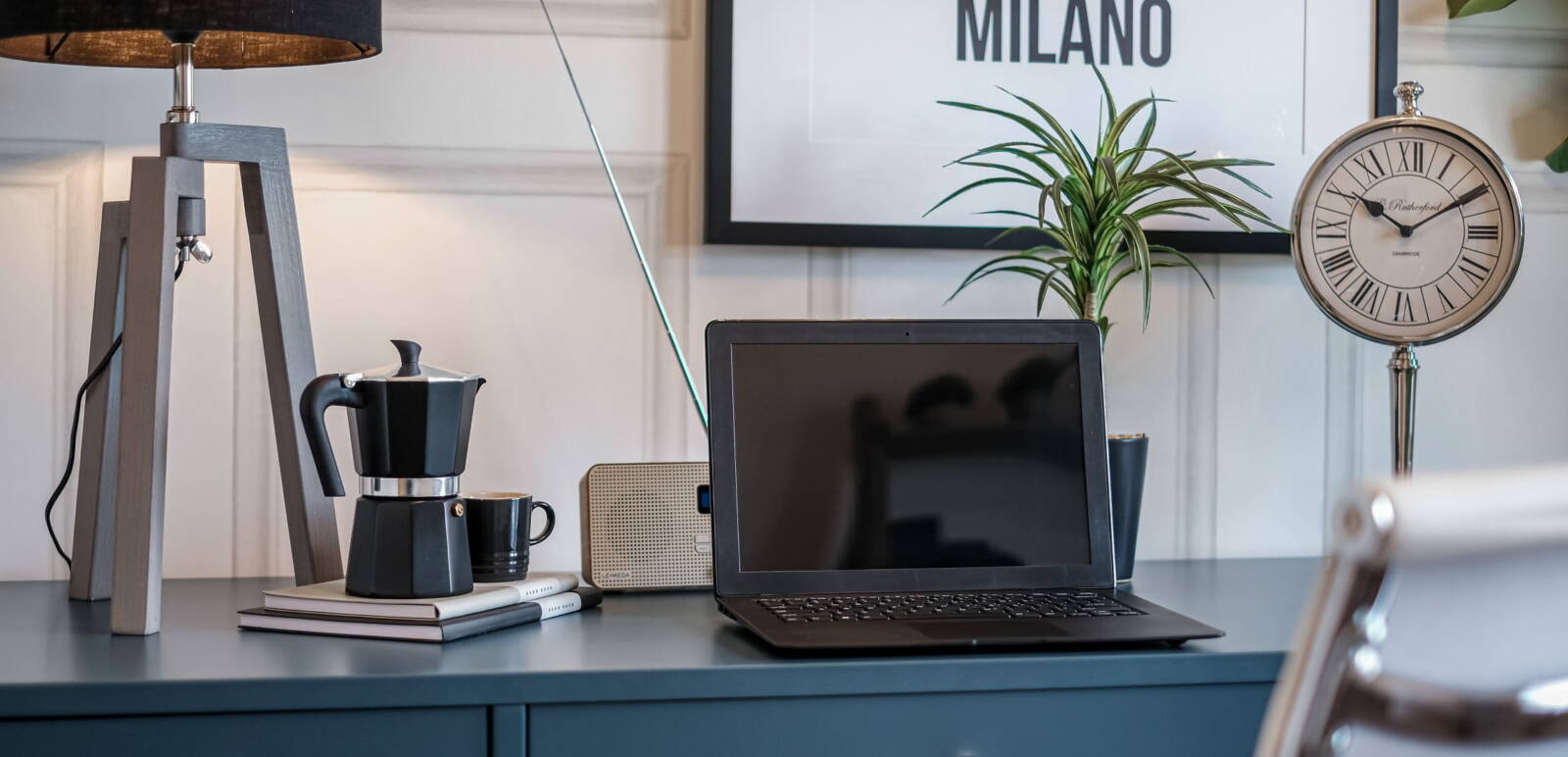 The function of design is letting the design function – Micha Commeren
Want superfast broadband straight to your new home!
When you buy your new St Modwen home* we can offer Hyperoptic broadband ready for when you move in. Hyperoptic offers what is called full-fibre, so no copper wires which makes it faster and more reliable. So whether you're working from home or staying in for movie night it is even easier, with faster downloading and streaming speed you won't be missing any important meeting or T.V. show.
 Fibre all the way!
With Hyperoptic, unlike other providers, we ensure there is no copper wires anywhere, so you're broadband is completely fibre all the way. The top average broadband speed (900Mbps for downloads and uploads on our hyperfast 1Gb product) is over 14x faster than the UK's average.**
*available on selected sites and homes, please ask your Sales Advisor for details.
*Broadband speed calculations: The UK's average broadband speeds are 64Mbps for downloads and 14Mbps for uploads, compared to Hyperoptic's top average speed of 900Mbps which is achieved through a wired connection. Average speeds taken from Ofcom's 'UK Home Broadband Performance' report, May-20.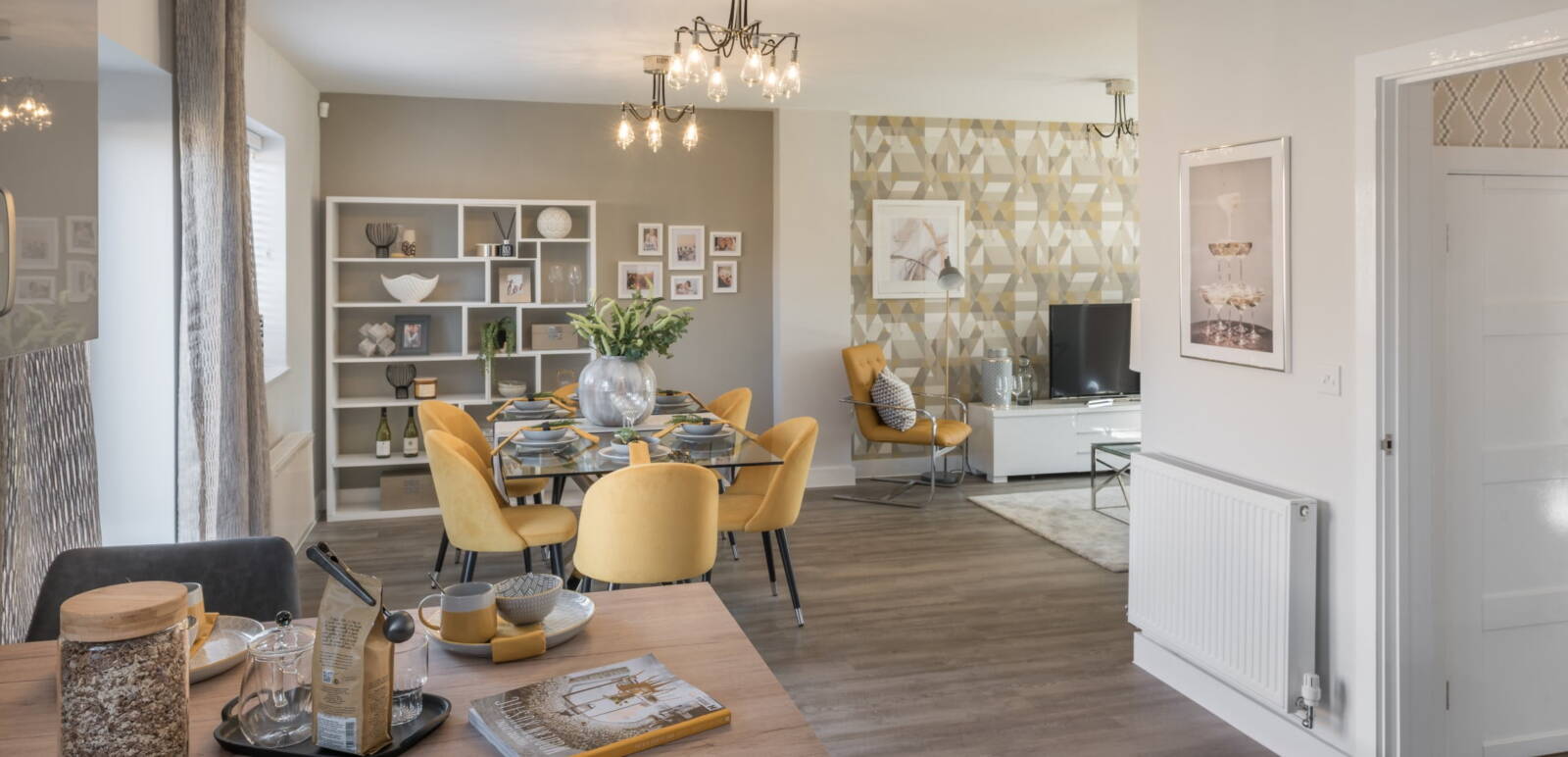 Design is a private intimate process, and you must embrace the many twists and turns it takes to create an exciting, inspiring but ultimately liveable space – Kit Kemp
The Pure housetype range
"When it comes to our own homes we have always subscribed to simplicity, with a view that less is more. We believe that it is the vibrancy of human beings combined with simple, well-designed elements that bring spaces to life. The Pure range HemingwayDesign have created alongside St. Modwen Homes reflects this approach.
Externally, contemporary brick window lintels and patterned brickwork bring depth and character to the paired back, tonal brick façades. Whilst anthracite window framing, and streamlined entrance canopies give the homes a distinctive, modern aesthetic.
Inside the homes, clean lines and considered, modern detailing provide the homebuyer with a canvas to make it their own. Open plan kitchen dining and living spaces are designed for modern living and family life, with generously proportioned windows providing plentiful natural light."
Wayne Hemingway – Hemingway Design
Peace – that was the other name for home – Kathleen Norris
We're better than Building Regulations
Enjoy the benefits of an energy-efficient and sustainable St. Modwen Home.
Our homes are twice as airtight as required by Building Regulations. This avoids unnecessary heat loss and energy wastage.
We use water restriction devices within our showers and dual flush cisterns within our WC's which offers betterment in water efficiency of 12% relative to regulations which inevitably is reducing waste.
Our homes are well insulated. The walls, roof, and floor of your St. Modwen Home go far beyond standard requirements which will reduce energy wastage and reduce the cost of heating the property overall.
Our group-wide range of homes are all designed to maximise daylighting and solar gains due to the larger windows and high ceilings – find out more benefits here.